---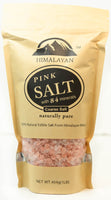 Pink Salt with 84 Minerals, Himalayan Coarse Salt
Pink Salt with 84 Minerals / Coarse Salt
Himalayan Pink Salt contains 84+ Minerals, 100% Natural Untreated, Balances body's ph, Raw never processed, Hand Picked.Sun Dried / Clearly the Best!
100% Satisfaction Guaranteed /  Naturally Pure / Kosher / Vegan
100% Natural Edible Salt from Himalayan Mines.
Nature's Healthiest Salt, Delicious tasting and rich in minerals. This is the purest salt in the world. Free of Bleaches, Preservatives or Chemical additives, it has a natural pink color and 84 minerals and trace elements in amount to provide a multitude of health benefits. Extracted by hand in the Himalayan Mountains Salt Crystal Mines.
The Healthiest Salt on earth! Healthier than the sea salt!
Net Wt.454g (1LB)