---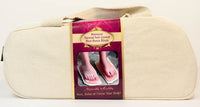 Himalayan Natural Salt Crystal Foot Detox Block
Naturally Healthy Foot Detox Block
Rest, Relax & Detox your body!
Natural Himalayan Salt Blocks help to cleanse your body in an easy, trouble-free and painless way
Among its Functional Benefits, it can:
Absorb toxins released by the body.
Assist in the extraction of toxins from the body.
Support normal blood circulation.
Improve quality of sleep.
Promote vibrant health and wellness.
Assist in reducing swelling.
100% Satisfaction Guaranteed