---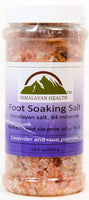 Himalayan Foot Soaking Salt, Lavender and Rose Powder
Himalayan Salt with 84 Minerals / Foot Soaking Salt
Benefits of using Himalayan foot Soaking Salt:
Softens & Heals Cracked Skin,
Gets rid of dead skin on your feet,
Reduces swelling,
Relieves achy tired feet.
Refresh and Cleanse your feet with Himalayan Foot Soaking Salt!
At the end of a long day, try our revitalizing foot soak salt. Add a couple of spoons to a large bowl of warm water (or partly fill your bath tub) and soak your feet for 10 minutes. They are scented with lavender and rose powder and will soothe, refresh and cleanse your feet.
19.5oz (550g)