---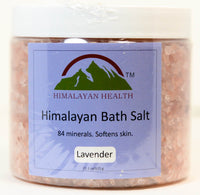 Himalayan Bath Salt, Lavender
Himalayan Bath Salt removes dead skin cells. Replenishes essential vitamins to the skin. Also, promotes clear and healthy skin with a natural glow.
84 Minerals / Softens Skin
Directions: Pour 7 grams of salt (1/3 of salt from jar) into the bathtub. Fill the tub with enough water to dissolve the bath salt in 30 minutes. Stir the water to speed up the process. Fill the tub with more warm water and soak away your tried muscles for 30 minutes. Do not rub dry after bath. Gently pat your skin and allow body to air dry.
Ingredients: Himalayan Natural Salt
22.1 oz. / 625g