---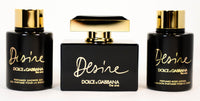 Sale
Dolce & Gabbana The One Desire, Gift Set: 75mL Parfum Spray + Shower Gel + Body Lotion
Sale price $ 80.99 Regular price $ 90.99
Dolce & Gabbana Desire Collection Set Includes:
-Eau De Parfum Intense / Natural Spray - Vaporisateur- 2.5 fl. oz. (75mL) 80% Vol.
-Perfumed Body Lotion- 3.3 fl. oz. (100mL)
-Perfumed Shower Gel- 3.3 fl. oz. (100mL)
The One Desire Dolce & Gabbana has a Sweet and Floral Scent
Base Notes of Caramel, Tuberose, Vanilla, White Floral, Sweet, Fruity
Ideal for Gifts!