---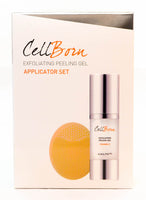 Sale
Cell Born Applicator Set + Vitamin C, by Cailyn
Sale price $ 39.99 Regular price $ 49.99
1 FL Oz / 30ML
Cailyn Exfoliating Peeling Gel removes dead skin cells, This innovative, all-in-one peeling gel helps reveal newer, younger skin with instant visible results, while its nourishing gel formula also Detoxifies, Hydrates, and Softens you Skin.
Exfoliating Peeling Gel / Smoothing + Brightening + Moisturizing
Cleansing Pad: flexible 100% Silicone/ Cleanse + Exfoliate + Massage
Secret Recipes: Vitamin-C, Papaya, Jojoba
4 Easy Steps:
Wash your Face or Body before use.
Apply to damp skin (if wet, towel dry for best result) and wait for 30 seconds.
Gently massage for 30 seconds to 1 minute until the dead skin cells appear in flakes upon the skin's surface.
Rinse off with water and pat dry.