---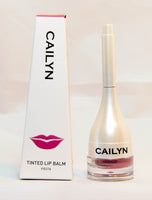 Sale
Cailyn Tinted Lip Balm Fiesta
Sale price $ 19.00 Regular price $ 23.75
Cailyn Tinted Lip Balm- Fiesta
3D Smart Film Former + Long Lasting + Moisturizing Built-In-Brush
Indulge in Long Lasting Colors and Enriching Formulas!
How To Use:
Using the Built-in-Brush, Fill in your Lips with Short Strokes.
Coat it twice to Achieve Full Coverage That Approximates the True Color of the Lip Balm.
Coat it with Cailyn Pearly Shimmer Balm if you want to Create Glossy, Shimmery Pout.
Remember to Clean the Brush After Each Use to Extend the Life of the Brush.
3D Smart Film Former: This Advanced Technology Stabilizes Pigment Powders and Allows Color Stay put Longer Without Losing its Vibrancy. This Balm won't Smudge or Need to be Retouched as Daytime Transforms into Evening.
Moisturizing: Infused with Carnauba Wax and Beeswax. This Tinted Lip Balm Moisturizes and Conditions the Delicate Skin of the Lips while restoring its Health Naturally. It's Unique Formula Penetrates deeply to Help Heal and prevent Wrinkling, Roughness, and Dryness.
Free from: Parabens, Sulfates, Petrochemicals. Phthalates, GMOs, Triclosan
0.14 FL. OZ.  (4gr)